George Breeman was born on September 15, 1880, in Passaic, New Jersey. He enlisted in the United States Navy in 1902, and was awared the Medal of Honor on May 5, 1906, for displaying "heroism in the line of his profession while serving on board the USS Kearsarge at the time of the accidental ignition of powder charges in the forward 13-inch turret"1, an act performed on April 13, 19062.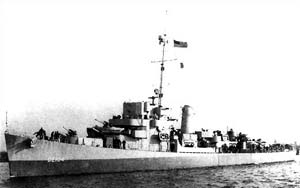 USS Breeman (DE-104)
Photo (c) Terry Dobmeyer via
Navsource Online
Later that same year, Breeman received an honorable discharge from the Navy. He reenlisted in the fall of 1912 and eventually reached the rank of chief turret captain. Breeman went ashore for the last time in 1927 and was transferred to the Fleet Reserve in early 1929.
George Breeman died on April 10, 1937, in Passaic, and is buried in Section 6 of Arlington National Cemetery in Arlington, Virginia.3 A monument to George Breeman stands in Veteran's Memorial Park along Passaic Avenue in Passaic, New Jersey.

The destroyer escort USS Breeman was launched on September 4, 1943, by the Dravo Corporation of Wilmington, Delaware.4 The launching ceremony was sponsored by his niece, Mrs. Marie Breeman Schellgell.5 The vessel was commissioned by the United States Navy on December 12, 1943, with Lt. Comdr. N. W. Hunter commanding.6 The boat then saw service throughout that Atlantic Ocean during World War II, before being decommissioned on April 26, 1946.7
The USS Breeman was later transferred to the Republic of China (Taiwan) on October 29, 1948.8
More information about George Breeman:

Citations:

http://www.homeofheroes.com/moh/citations_peace/breeman_george.html
http://www.hazegray.org/danfs/volume_b/vol_b_08.htm
Ibid
http://www.desausa.org/medal_of_honor_de_names.htm
Ibid.
Ibid.
http://www.hazegray.org/danfs/volume_b/vol_b_08.htm
Ibid.